High Security Door Jammer
£37.99
Designed, engineered and manufactured  in the UK, the Securian MX-1 is built to aerospace- and marine-grade standards and can cope with the toughest of challenges and most aggressive attacks. Unlike other security door stoppers, the Securian MX-1 is built to last. It's corrosion proof, chip-proof and doesn't need to be painted.
Description
This high-quality, high security door jammer is simple to install and use, sliding into place in seconds. It's operated without keys or a lock. If you're searching for the ultimate in home and office protection, the Securian MX-1 security door jammer is the perfect choice.
Door jammers and door braces provide the ultimate protection for your home or office. Simple to fit and easy to operate, the Securian MX-1 is one of a new range of innovative and affordable security door jammers from Securian.
Situated directly behind an external door, the Securian MX-1 is designed to withstand up to high attack forces. Tests have proven that the Securian MX-1 can stand up to sustained assaults and attacks. Whatever is going on outside, with a Securian MX-1 you'll be safe and protected inside. It's part of our MX range of innovative home security devices.
The Securian MX-1 is a sliding door jammer that can be easily positioned into place, improving your security in seconds. The metal base plate is secured directly to the floor behind the door, with the portable and removable sliding plate slotting into place. The sliding door jammer can be removed by anyone, giving you the freedom to enter and exit your home as you please.
The Securian MX-1 provides ultimate protection from career criminals and inventive intruders, who will find it impossible to breach.
Even if your front door safety lock is picked, you'll have peace of mind that you're safe inside your home or office with this superb security door stopper.
SECURIAN MX-1 FEATURES
The Securian MX-1 is a high-quality security door jammer designed, engineered and built in the UK. It will work with all inward opening doors in the home or office, including UPVC doors, wooden doors, composite doors and patio doors.
Sometimes called a floor latch for the door, when the Securian MX-1 is in place, you'll enjoy complete confidence in your personal security, even if your door lock or door bolts are breached.
Easy to install by a competent person.
Simple slide mechanism of operation is easy for any person of any age.
Built from high-specification corrosion-resistant metals.
Can withstand up to high attack forces.
A functional and attractive design.
No keys or locks to worry about.
L 150mm, W 80mm, H600. Minimum door clearance 20mm.
PERSONAL PROTECTION
The Securian MX-1 is built from exceptional quality materials, including aerospace- and marine-grade metals. The Securian MX-1 is polished to provide an attractive door jammer that's ready to use from the box, with no painting or preparation needed.
The Securian MX-1 has undergone rigorous laboratory and real-world testing to establish itself as the leader in personal property protection. Designed and built in the UK, the Securian MX-1 was created by experienced engineers using the latest in computer-aided design (CAD) and computer numerical control machining (CNC) manufacturing technologies and techniques.
They used Finite Element Analysis (FEA) and computer stress modelling to test the unit, refining its design to ensure it performs under pressure. In real-world tests conducted by Securian and independent security contractors, the Securian MX-1 was able to cope with the typical attack forces used in a home or office break-in.
The Securian MX-1 has been tried and tested to ensure it's the best security jammer on the market today. If you're designing a home security system, ensure the Securian MX-1 is part of your package.
WHAT'S IN THE BOX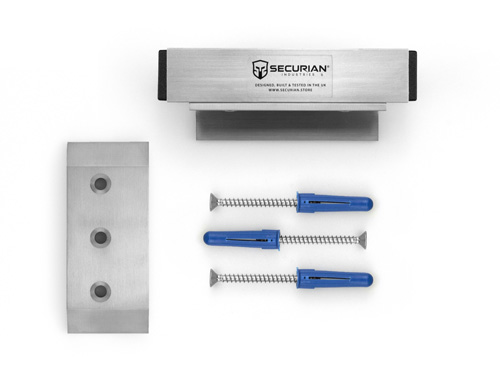 The Securian MX-1 comes with detailed installation instructions that can be used by a competent professional to fit the high-quality floor latch for doors.
In the box you'll find:
High-quality door jammer and baseplate.
Stainless steel fixings.
Plastic raw plugs.
Installation instructions. Including recommendations for tools, drill bit/hole sizes etc.
If you would like further information, please contract our technical support
Additional information
| | |
| --- | --- |
| Dimensions | 215 × 38 × 38 cm |